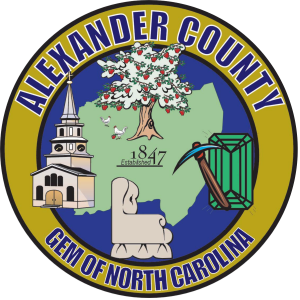 Alexander County Achieves Certified Local Government Status for Historic Preservation
March 9, 2022 – Alexander County joins 11 counties and 60 cities in North Carolina as Certified Local Government (CLG) through the State Historic Preservation Office and the National Park Service. The commissioners approved an agreement to become a GLC at their March 7 meeting.
Connie Kincaid, Business Development Manager at Alexander County Economic Development Corporation and Staff Liaison for the Alexander County Historic Preservation Committee, presented information about the CLG program and associated benefits. The National Historic Preservation Act established the CLG program to provide financial and technical assistance to preserve historic properties in counties and municipalities that have their own Historic Preservation Commission and program that meets federal and state standards.
Kincaid said a key benefit of being a CLG is the ability to compete for grants to advance local historic preservation efforts. The county will also receive technical assistance and training from the State Historic Preservation Office and participate in appointments to the National Register of Historic Placesas well as other benefits.
The commissioners expressed their appreciation to the Alexander County Historic Preservation Committee for their hard work and dedication.
Along the same lines, the commissioners heard a report from Audrey Thomas, a specialist in historical surveys at the State Historic Preservation Office, regarding the Taylorsville Comprehensive Municipal Study that was completed within the past year. She said the architectural survey creates a lasting record of historic places, promotes a better understanding of local heritage and identifies significant properties. During the project, Thomas inspected 176 individual buildings in the city, including industrial, institutional, religious, commercial and residential properties.
In June 2021, the Downtown Taylorsville Historic District was placed on the state's Review List identifying potential for listing on the National Register. She determined that 33 buildings in the district are eligible to be listed on the National Register of Historic Places. She said there would be no obligations or restrictions for private owners; however, they would be eligible for tax incentives during federally and state-approved preservation projects.
In other economic development news, David Icenhour, Executive Director of Alexander County EDC, provided information on a $500,000 grant the county received from the North Carolina Railroad Company (NCRR) for the purpose of ranking a site in the Alexander Industrial Park. Icenhour said the goal is to create a rail-served site that will be attractive for future industrial prospect. Alexander County is one of six counties to receive the NCRR "Build Ready Sites" grant.
In addition, EDC received a grant of $632,412 from the GOLD LEAF Foundation in December 2021, which will be combined with the NCRR grant for a total of $1,132,412 for the project, which includes engineering, design and grading.
"We are extremely grateful for the grants from the North Carolina Railroad Company and the Golden LEAF Foundation, and we look forward to seeing this project translate into new jobs and investment for Alexander County," Icenhour said.
Commissioners unanimously approved the grant agreement with the NCRR.
• County Manager Rick French presented information on Alexander County Courthouse Park, Rotary Performance Stage and splash pad. He said the dedication and ribbon cutting for the Alexander County Courthouse grounds and rotating performance stage is scheduled for Sunday, May 15, with remarks from local officials, special entertainment and vendors. of food. Although the paddling pool will not open until after the inauguration on May 15 this year, the normal schedule is offered from April 1 to September 30 from 8:00 a.m. to 8:00 p.m.
He also discussed a daily fee schedule for renting Courthouse Park, which is free to local nonprofits and for-profits with a $150 maintenance/cleaning fee and a refundable security deposit. of $300. For organizations outside the county, there will be an additional charge. A parks ordinance was also revised.
Commissioners will further review and vote on the park proposals at their April 4 meeting.
• John Wear, Deputy Director of Community and Regional Planning for the Western Piedmont Council of Governmentssubmitted offers for Emergency Watershed Protection Program. A number of local waterways filled with debris following the November 2020 flood.
The Alexander County Soil and Water Conservation District (ACSWCD) received a $79,500 grant from the USDA's Natural Resources Conservation Service (NRCS). The grant also pays $11,925 to WPCOG for technical assistance.
Wear said the lowest bidder responsible for the project is Shaun Lackey Excavating LLC with a bid of $190,000, which includes chipping and burning debris as it is removed from three sites. Including technical assistance costs, the project totals $209,000. ACSWCD coordinator Pamela Bowman said she would be applying for an additional grant.
The commissioners approved the low bid on the understanding that no county funds are being used for the project at this time.
• County Manager French introduced a number of amendments to the budget order, including an amendment to adjust the employee bonus budget to be paid in March 2022 by $1,000 for full-time employees eligible and $500 for eligible part-time employees.
Chairman Ronnie Reese said he was pleased to be able to offer county staff an incentive. "We try to do certain things to help our employees. When we received the ARPA funding that we use for water infrastructure, it freed up money that we can use for other things like employee bonuses," Reese said.
• Commissioners held a public hearing on a proposed county ordinance to establish child safety zones in Alexander County. Sheriff Chris Bowman said he received a call several months ago from a concerned parent about a registered sex offender parking at school bus stops. Detectives Buddy McKinney and Dennis Foster began investigating the case and discovered that the state status does not include bus stops in the 'sex offender illegally present' section. Sheriff Bowman said Henderson County has passed an ordinance to establish child safety zones and Iredell County is considering passing a similar ordinance.
Detective McKinney said the number one objective of the order is the safety of children and to be able to enforce the prevention of loitering at bus stops.
Commissioners have expressed concern over the issue and support for the order. A special meeting was scheduled for March 21 at 6:00 p.m. via Zoom to vote on the ordinance.
• In the County Manager's report, Mr. French noted three upcoming events: Alexander County 6/12/24 Hour Race at Alexander Central High School on April 2 and 3, RockyFest on April 23 and the grand opening of the Alexander County Courthouse grounds on May 15.
Consolidated Meeting of the Social Services Council
• Kristy Hunt, senior center director, said programming is beginning to increase at the senior center as COVID-19 cases continue to decline. Participants appreciate the group exercises and music. Staff continue to help with health insurance plans. AARP offers free tax preparation services on Saturdays. A celebration of seniors is planned for May 27 with special music by Rick Cline.
• Billie Walker, Deputy Director of Health, provided an update on COVID-19. Alexander County has a cumulative total of 10,359 cases, with 71 cases in the past 14 days and 21 cases in the past 7 days. There have been 137 deaths associated with the virus. Alexander County has a test positivity rate of 4.8% while North Carolina has a rate of 3.9%.
• Leeanne Whisnant, Director of Consolidated Social Services, provided a Social Services update. She said the state recently conducted the Recipient Eligibility Determination Audit (REDA), which showed 97% approval actions, 96% denial/termination actions, and 96% approval. technical errors. The state requires a minimum of 96.8 percent for all three categories, so the department submitted an accuracy improvement plan to the state. Starting in June, the state will verify 10 records per month until 96.8% is achieved for three consecutive months.
Whisnant reminded the board of the Low Income Water Assistance Program (LIWAP). The department received $50,101, with $29,284.91 used through February 2022.
The department also offers the Low Income Energy Assistance Program (LIEAP). The local DSS received $148,282 from the program, of which $91,400 was used through February 2022. They received an additional $194,512 from the American Rescue Plan Act, of which $71,000 was used through February .
She said there are currently 67 children in foster care, with one adoption in 2021 and four adoptions so far in 2022. There are currently 10 participants in the foster parent class which started in January. If you are interested in one of these programs, call the Alexander County DSS at (828) 632-1080.
March is National Social Work Month. National Public Health Week is celebrated from April 4 to 10.
County Manager French expressed his gratitude to Whisnant and Walker for their hard work during the pandemic.
The Alexander County Board of Commissioners generally meets the first Monday of each month at 6:00 p.m. in Room #103 of the CVCC Alexander Center for Education. The next regular meeting is scheduled for Monday, April 4 at 6:00 p.m. Regular meetings are being recorded and can be viewed on the county's government channel at Spectrum 192 or on the county's YouTube channel at www.youtube.com/alexandercountync. Meeting agendas, minutes, videos and more are available on the county's website at alexandercountync.gov/commissioners.