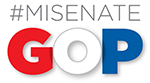 Bizon Pledges to Support Michigan Natural Resources Trust Fund Project Recommendations
LANSING, Mich. – Sen. John Bizon, MD, on Tuesday expressed his support for five development projects and one acquisition recently recommended by the board of directors of the Michigan Natural Resources Trust Fund (MNRTF) for Barry and Ionia counties.
"As a member of the Senate Appropriations Committee, I will work to ensure that these necessary site upgrades, as well as the recommended property expansion for the Portland State gaming area, are properly funded. "said Bizon, R-Battle Creek.
"Our recreation areas are important to maintaining and improving the quality of life for many residents and families in the 19th Senate District and throughout our state. I am grateful for the work of the trust fund to identify these projects and will do my best to ensure they are funded to benefit Michiganders for generations to come.
The MNRTF's most recent annual report identified two projects in Barry County's Yankee Springs Recreation Area – $120,000 to replace the park's old popular fishing pier and improve shoreline fishing access, as well only $50,000 to replace the stone beach wall to improve beach access and protect the park pavilion from high water and wave action on busy Gun Lake.
In Ionia County, the Trust Fund Board has recommended $300,000 to expand the 15.6-acre Scheid Park facility along the Fred Meijer Grand River Trail in the Village of Saranac. The proposed project would construct a restroom concession building, provide additional barrier-free parking, and accessible walkways to existing ball diamonds.
Additionally, the MNRTF has offered $300,000 to rebuild 3.2 miles of the Fred Thwaites Grand River Trail in the town of Ionia, $300,000 for the development of the trailhead and Lightning Bend Preserve trails in the town of Belding, and $350,000 for the acquisition of 66 acres of land to expand the Portland State Gaming Area.
Learn more about the MNRTF and its project recommendations at Michigan.gov/MNRTF.
###