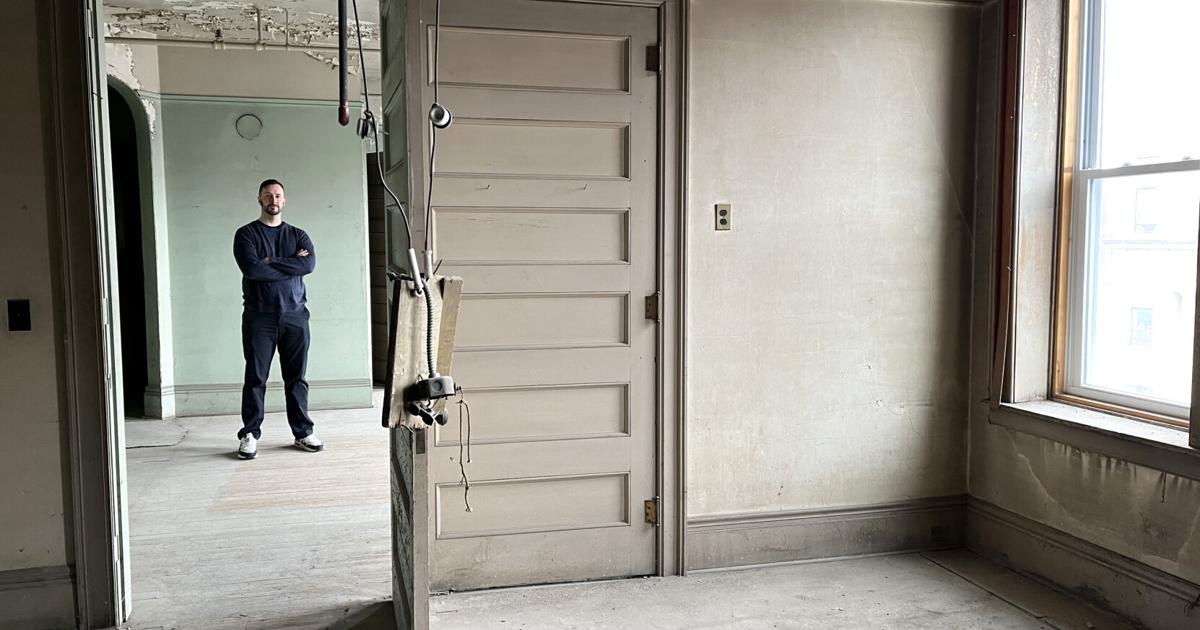 Built for This: Auburnian Launches Historic Preservation Company | Business
Shortly after Andrew Roblee moved to Auburn at age 12, he began exploring the city's empty buildings.
They were different from newer buildings, he noticed. And when he saw a kitchen, for example, a kitchen that was installed like no kitchen is installed now, he wondered who was using it.
"I was constantly wondering about how people lived," he told the Citizen on Wednesday. "There's just something about this physical, built environment that connects us to people who are gone and can't communicate with anymore. We communicate with them through this three-dimensional world, this built environment."
These teenage explorations were the basis for Roblee Historic Preservation, which he launched last month. The firm's services include building pathology, National Historic Register and Historic Appointments, Grant Writing and more. Roblee offers these services within a 300-mile radius of Syracuse, stretching from Cleveland to Boston, though he's willing to make exceptions.
While his youth gave him the passion for the field, the years that followed gave Roblee the preparation to stand out in it. He spent the first 10 years of his career in the building trades, he said, starting as a "humble drywall hanger" for Apex Drywall's John Prishvalko. He then worked as a carpenter for Bouley Associates and facilities manager for the historic Seward House Museum.
"My company can offer a real understanding of construction and building materials," he said, thanking Pirshvalko, Charles Bouley and Seward House general manager Billye Chabot for their tutelage.
"I know what goes into doing a project on a historic building," he continued. "I think I have a particular knowledge and value in this area, and I hope to exploit it."
Roblee left Seward House to enroll in the master's program in historic preservation planning at Cornell University. He then became a historian of project architecture for Environmental Design & Research at Syracuse. Much of his work there involved regulatory permits for renewable energy projects, like offshore wind farms, which consisted of thousands of properties.
In his new venture, Roblee will draw from this experience as much as he draws from his years of installing drywall. But these projects are what led him to start the business, as he wanted more hands-on work.
What also led Roblee to start the business was increased requests in recent years to lend his expertise to local side jobs, like the home of 11 Seminary St. in Auburn. He compiled a history of the house, which was built to be the home of Dr. Ezra Abel Huntington of Auburn Theological Seminary, and wrote its nomination for the State and National Register of Historic Places.
Roblee will continue to work like this with his company. It's just him for now, but he said he hopes to expand and hire staff in the future. The company's current projects include 123-125 Genesee St. in downtown Auburn, where Roblee helps real estate owner Brian Muldrow earn historic rehabilitation tax credits. The building, which houses Muldrow's Cayuga Drug & Alcohol Testing business and the Sugarman law firm, was once the site of a 19th-century photography business. Roblee said his infrastructure, including a darkroom and studio, is still intact.
Labor was cheap and materials were expensive when buildings like this were built, Roblee said, but the opposite is true today. It is also more environmentally friendly to maintain old buildings than to bury them in favor of new ones. These are some of the reasons, along with the emotional connection to the buildings he first experienced as a teenager in Auburn, why he wants to preserve them.
"Qualitatively, historic buildings are so much better constructed than anything else today," he said. "There are so many reasons why our historic buildings are important."