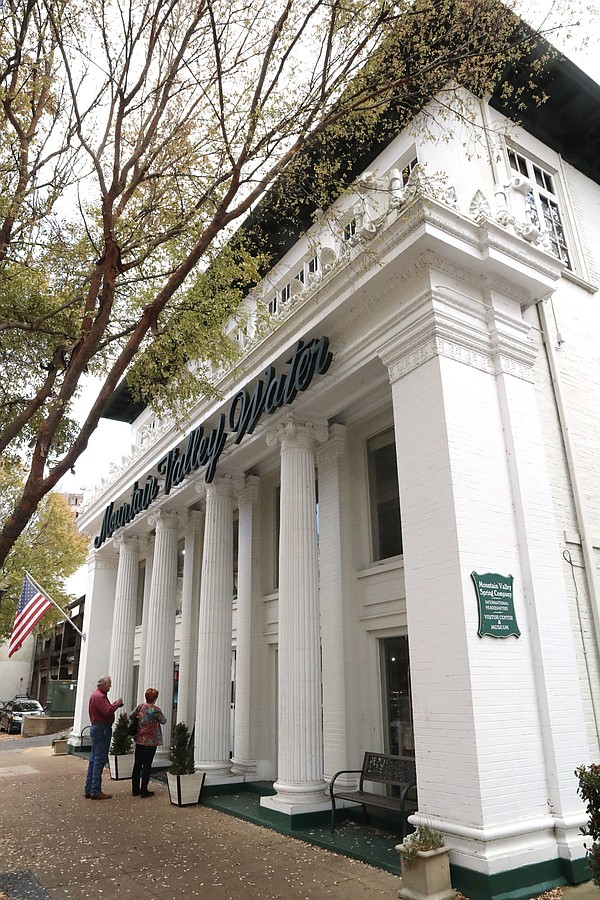 Historic Preservation Boosts Hot Springs Economy
[ad_1]
HOT SPRINGS – A recent study by a Washington-based real estate and economic development consultancy showed that preserving historic buildings contributes significantly to Arkansas' economy, citing Hot Springs as one of the examples.
The Arkansas Historic Preservation Program commissioned the study from PlaceEconomics to determine the economic impact of historic preservation by examining "different but overlapping programs within the AHPP: Main Street Arkansas, Credit d 'Arkansas Historic Rehabilitation Income Tax and Arkansas Historic Preservation Program Grants'.
Donovan Rypkema, director of PlaceEconomics, said the programs have proven successful in Arkansas, with Hot Springs benefiting from the tax credit program.
"Hot Springs is the star of this report," said Rypkema.
PlaceEconomics has conducted studies like this across the country and around the world, he said, and recently did one in Abu Dhabi in the United Arab Emirates where its goal "was to recommend tools and strategies. . We have said that Arkansas is a great and effective role model. . "
The study indicates that the Arkansas Historic Rehabilitation Tax Credit granted a total of $ 21.5 million in state historic tax credits, which attracted nearly $ 224 million in 'private investments and led to the rehabilitation of 342 buildings in 24 towns.
The Arkansas Historic Preservation Program, according to the study, has awarded "nearly 2,400 grants in 170 cities in 74 of Arkansas' 75 counties" since 1971, for a total of about 55.5 million. dollars, of which nearly 45% was used for the "rehabilitation, repair, and stabilization of historic resources.
According to the study, Main Street Arkansas has invested more than $ 377 million in buildings, infrastructure and public improvements in their Main Street neighborhoods, 78% of which comes from the private sector. It also created over 3,900 net new jobs in the Main Street neighborhoods and created 1,181 net new businesses.
Hot Springs' use of tax credits is a "national achievement," Rypkema said.
The study features several other cities studied, including Batesville, Conway, El Dorado, Fort Smith, Helena-West Helena, Little Rock, and North Little Rock.
The Hot Springs portion of the study indicates that since 2009, 16 projects have used tax credits totaling $ 14,749,214 in investments and that there has been "$ 976,392 in AHPP grants since 1981". Of these, 75% were used for repairs, stabilization or restoration.
Two local architects, Anthony Taylor and Bob Kempkes, are highlighted in the study.
"In the mid-1980s, Hot Springs, Arkansas, was fortunate to have two architects. Bob Kempkes and Anthony Taylor came to Hot Springs and found their calling in renovating and revitalizing historic downtown Hot Springs, "the study says.
"The couple renovated a number of significant historic buildings, including the DeSoto Building, home of Mountain Valley Water Co., one of the country's first projects to use the federal historic tax credit." The study also notes Kempkes and Taylor's efforts with The Waters Hotel.
"Projects like the Waters Hotel are helping to build momentum to make downtown Hot Springs a vibrant market for tourists and residents," the study said.
Examining tax credit plans, the study says, "Today, these properties generate more than $ 75,000 in local property taxes than just three years ago. On average, each of the past 10 years has seen 10.6 direct jobs and 7.5 other indirect and induced jobs. jobs created by these projects. The direct jobs on these projects generated $ 326,000 in income and the indirect / induced jobs an additional $ 268,000.
Rypkema said that safeguarding these buildings strengthens the character of the community and gives its citizens ownership of that character.
"This is our city. They don't own the building, (but) it doesn't make any difference," he said.
"You walk into a building where your grandmother walked," Rypkema said, noting that these classic buildings are the "physical manifestation of memory. Nothing has value without memory".
Speaking of value, Rypkema said cities with cultural heritage rather than just tourism tend to do better with tourists. He said that people who visit a place for its heritage "will spend more money per day [and] stay longer. "
PlaceEconomics spent about a year on the study and completed it in January.
Rick Krejcarek, left, and Sue Krejcarek see exhibits at the Mountain Valley Spring Co. Visitor Center and Museum last Thursday. – Photo by Richard Rasmussen of The Sentinel-Record
[ad_2]