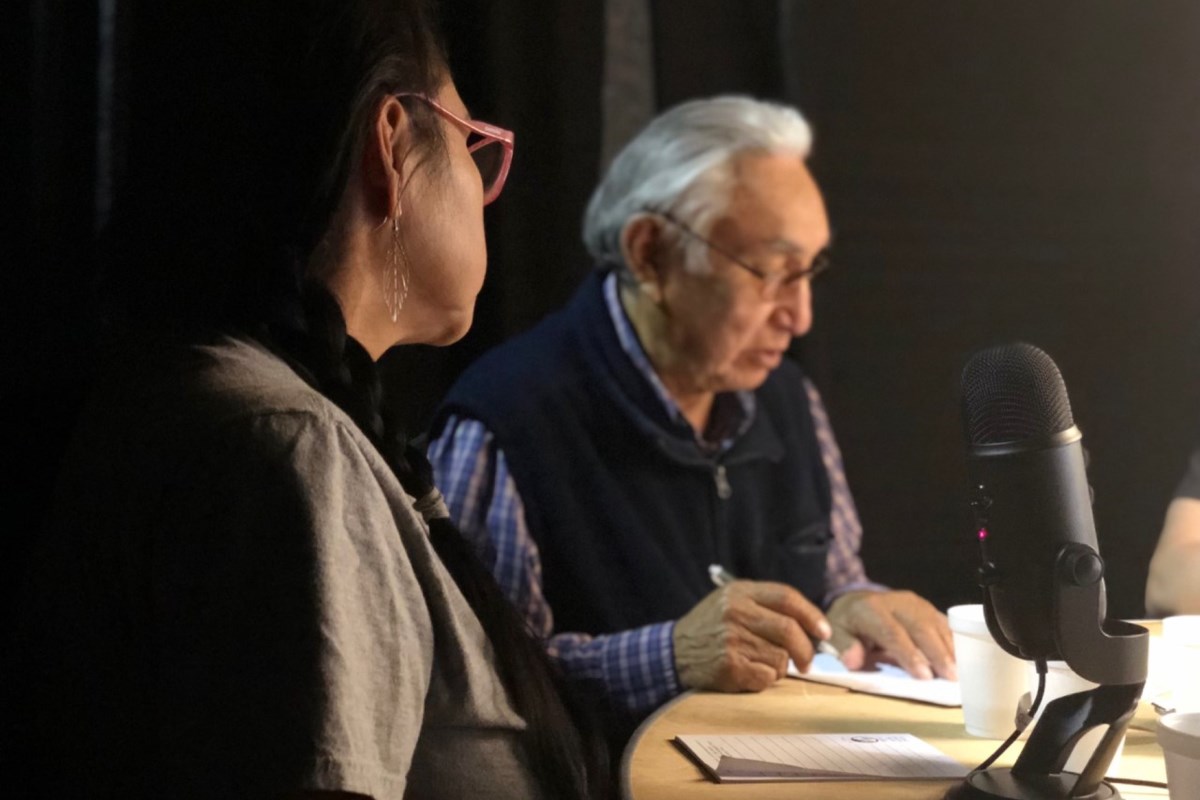 Stoney speakers keep 14,000 words in educational resources
A partnership between the Stoney Nakoda First Nation and The Language Conservancy (TLC) aims to preserve and restore the Stoney language for current and future generations of speakers through the creation of new educational resources.
A partnership between the Stoney Nakoda First Nation and the Language Conservancy (TLC) aims to preserve and restore the Stoney language through the creation of new educational resources.
Stoney Education Authority's language and culture coordinator Cherith Mark said the initiative started in 2019 when one of Morley's school board language teachers approached TLC to create classroom resources in the Stoney language.
Before the partnership began, the Stoney language teachers created their own resources and although their cause was noble, they found themselves struggling to teach the language effectively and consistently.
"They wanted something that all of the language teachers in our school district could use," Mark said. "Most of us who know the language are oral speakers, so we kind of wanted some type of (written) resource that could be used as well."
Stoney Education Authority and TLC – a US-based non-profit organization that works with Native Americans and Indigenous peoples to protect and revitalize their languages ​​- agreed to work together after a representative visited Morley in 2019.
With the help of approximately 50 Elders from the Stoney Nakoda First Nation of Chiniki, Wesley and Bearspaw, TLC helped create a comprehensive Stoney Dictionary through a quick two-week word-collecting event at the Stoney Nakoda Resort and Casino in September and October 2019.
"It was really going to start there," said TLC CEO and Chairman Wilhelm Meya. "Once you have a good dictionary, it becomes the cornerstone and the cornerstone of all the other materials you can build.
"It really helps stabilize the language because then there is a consistent spelling system, consistent meanings, and all of that provides the kind of credibility that learners really need."
Stations run by linguists from TLC were set up during the event, covering different categories of Stoney words for things like items one might find in their kitchen, for example.
The Elders scored as many Stoney words and definitions as they could at each station.
After two weeks, they had collected 14,000 words.
"This is the basic premise behind this approach that we have where we cover 1,700 categories that span the full spectrum of tribal experiences," Meya said. "It's a whole universe – almost like an encyclopedia of experience."
It is helpful that TLC has worked extensively with Indigenous peoples to preserve and restore the Dakota and Lakota languages ​​which are related to the Stoney in the Siouan language family.
Classes in Stoney Nakoda First Nation and the Stoney Education Authority are now starting to see tangible rewards for their efforts through the creation of level textbooks, coloring books, alphabets and pictures, as well as learning applications.
The Stoney Education Authority was able to fund the project and the resources created from it, entirely through grants, said Mark.
Mark said she believes the work they do is important not only to their collective identity as the Stoney Nakoda people, but also so that they, as Indigenous people, can better adapt.
"As Indigenous people we have to change with the world," she said. "But we also have to preserve what we have, namely the language and the culture.
"It's really important to preserve these things because our languages ​​are living things. Our language is constantly changing and evolving with young speakers."
While working on the project, Mark said she learned older terms and phrases that she had never heard before, often because they had been abbreviated or abbreviated by her own generation and others. before his.
"We have always been an spoken language," she said. "Our language must also be documented so that we can keep up with these changes."
It is estimated that there are around 3,000 speakers of the Stoney language. Most reside in Morley.
Corleigh Powderface, a member of the Stoney Nakoda First Nation, who has been involved since the first event, said for herself that the project is not just about preservation; it brought their community closer together in trying to achieve a common goal.
"It has been an honor and a privilege to work with the whole community on this dictionary," she said. "And it made me feel great to know that our community still exists, even though we live apart.
"It is something that I will cherish forever."
Recently, Nakoda Primary School began to involve Elders and Knowledge Keepers of Stoney Nakoda in a new initiative organized to impart the teachings of the language, culture and traditions to the students of the school of the Kindergarten to 5th grade.
Currently, a Level 1 manual designed for non-Stoney speakers is available. Levels two and three are expected to roll out in the new year.
A free mobile app called StoneyDictionary is available for download and Powderface said it hopes people outside the Stoney Nakoda community will express some interest in learning as well, in the interest of truth and reconciliation.
"We don't want to be just that community that lives along the Bow River anymore," she said. "We want to be heard now and we would like someone, even from Cochrane, to say aba wathtech, which means "have a nice day".
"For me, this is one of the steps towards truth and reconciliation because that person actually asked, 'How are you? ""